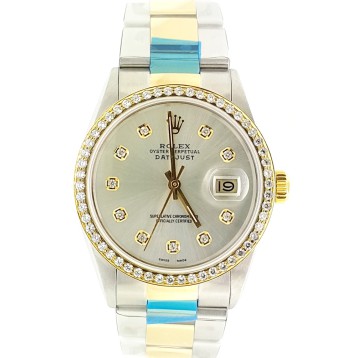 Ask a Jewelry Expert
We welcome the opportunity to answer your questions or to hear your feedback. Join in a conversation with one of our Diamond and Jewelry Consultants to help you make the right decision by calling:
1 (212) 781-1777
Rolex Datejust Yellow Gold Diamond Bezel Rhodium Dial 36mm Automatic Watch
Product Code: W5520
Retail Price:
$11,100.00
(You save 50%)

Product Details
Rolex Datejust Stainless Steel and 18k Yellow Gold with 1.0 ctw Round Cut Diamond bezel Rhodium Dial Diamond Hour Marker Oyster Bracelet 36mm Automatic Watch
Features:

Item Number: W5520

Brand: Rolex
Model: Datejust
Manufacture no: 16013
Movement: Automatic
Gender: Unisex/Men
Case material: Stainless Steel
Case Diameter: 36mm
Rolex Logo on the Crown
Bezel Material: 18k Yellow Gold
Bezel type: 1.0 ctw Round Cut Diamond, 54pcs
Glass: Scratch-resistant Sapphire Crystal with magnifier Cyclop
Aperture Date at 3 O' Clock
Dial: Rhodium Dial
Numeral: Diamond Hour Marker
Bracelet material: Stainless Steel and 18k Yellow Gold
Bracelet Type: Oyster

Condition: Pre-owned
Like New. Mint Condition

Delivery Info
Same-Day Shipping - Order by 2pm EST
FREE 2nd Day FedEx Delivery
Fully Insured
Our Guarantee to You
100% Money Back Guarantee
Returns are accepted if item is not as described in the specifications.
FREE Lifetime Care Plan
FREE Lifetime Care Plan
We understand that you're purchasing more than just jewelry - you're showing someone they're loved. And since that love is everlasting, we want to make sure your jewelry lasts a lifetime. Therefore we offer cleaning, polishing, prong-tightening and rhodium plating services for all jewelry purchased from us.
About Our Diamonds
We offer a vast selection of the finest quality diamonds certified by some of the most highly respected diamond grading laboratories in the world. As you shop for your diamond, it will become apparent to you that our diamonds sparkle so much more than most.
Free Jewelry Appraisal
A jewelry appraisal is a document stating the approximate retail value of the item. The value is calculated using the up to date market data and reflects typical retail prices based on gemstones weight, quality, precious metal quality, weight and the craftsmanship of the item. This item comes with a free appraisal / certificate of authenticity stating the metal as well as approximate carat weight, quality of diamonds and the appraised value of the item. Most often our jewelry appraises for double its sale price.